Appointments
Appointments
Appointment management is the key activity of your My Matching #Agenda. Here we'll be explaining how to:
Requesting an Appointment
On the profile of an Exhibitor, click on




You cannot request an appointment with an Exhibitor unless the Exhibitor has activated their agenda. If the Exhibitor hasn't yet done so, you can invite them to activate the agenda by pressing .





Choose the available time slot that suits you best




This view shows your agenda and the agenda of the other user, overlaid to show the time slots both of you have free.



Check the date and time of the appointment and confirm to send the request


Wait for the other user to confirm or decline the appointment request.


It is advisable to visit My Matching daily to get the most out of the platform.



Managing Appointments
Appointments to be managed can be viewed in two ways:
Using the Notification function on the User Bar
Using the MY AGENDA widget on the My Matching Dashboard

To manage appointment requests, click on VIEW APPOINTMENTS .
The screen that appears shows you your agenda with all the appointments, both those already confirmed and those still to be managed.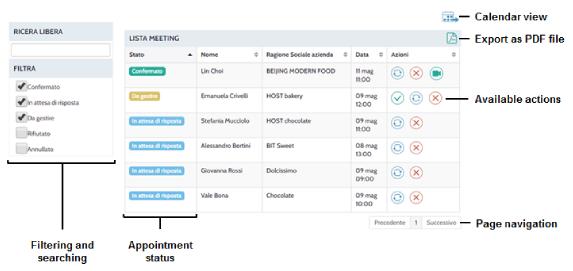 On this screen, you can:
Look for and filter appointments
Manage appointments using the action buttons
Export the agenda in PDF format
View the agenda as a calendar
Actions for managing Appointments
Confirm
Reschedule
Decline / Cancel
Status of Appointments
&nbspConfirmed&nbsp

the request has been accepted by the other user

&nbspTo confirm&nbsp

you have received a request you must Confirm, Reschedule or Decline

&nbspWaiting for Response&nbsp

you have sent the request to the other user

&nbspCancelled&nbsp

the appointment has been Cancelled

&nbspDeclined&nbsp

the request has been Declined

&nbspDone&nbsp

the meeting has Done