Dashboard
Dashboard
The Dashboard is the Control Panel of My Matching, where you'll find access to all the platform's functions.
My Dashboard is made up of 3 sections: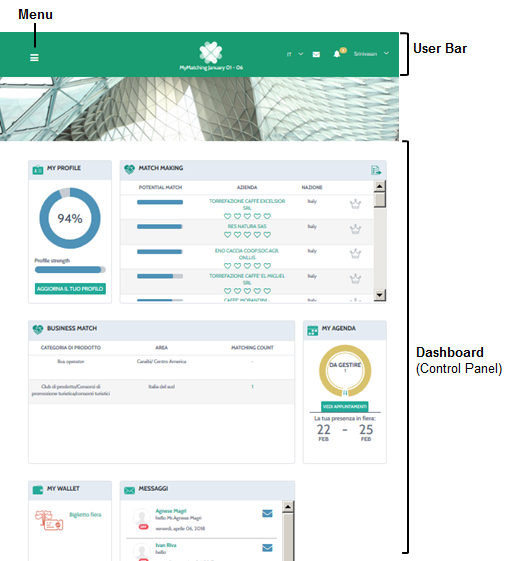 Menu
The Menu button in the top left corner shows the Main Menu of the platform, which contains direct access to the main My Matching functions.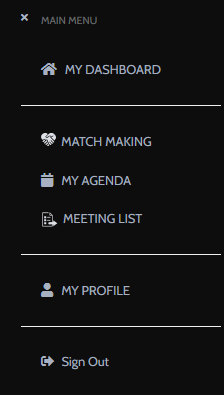 User Bar
The My Matching User Bar contains quick access to 3 important functions:
It allows you to select the platform language, Italian or English
It contains notification of the number of unread messages, and just one click takes you straight to the My Matching messaging page
It indicates the current user, with a quick menu for the profile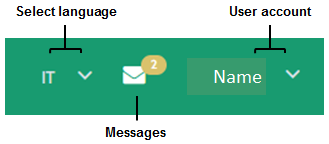 Message Notifications
The icon shows a quick view of messages received.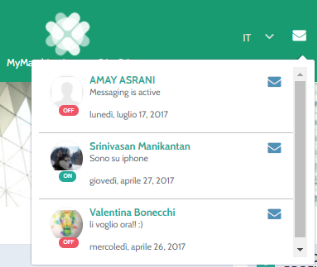 Menu Quick Profile
Click on your name to open the Quick Profile Menu, which shows:
Personal picture (which can be edited in the personal profile)
Company logo (which can be edited in the personal profile)
Personal information (Name and Surname, Company, e-mail address)
It also offers direct access to 3 important functions:
View and edit personal profile
Change the password
Log out of My Matching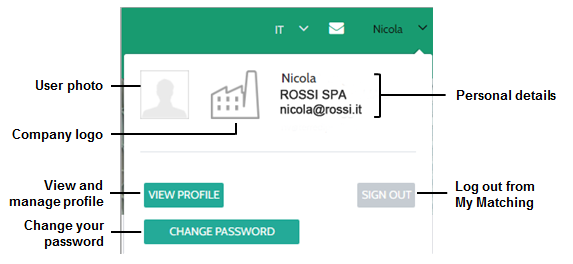 The user's e-mail address is confidential, and is never shown to other users.
Dashboard (Control Panel)
The Dashboard is the Control Panel of My Matching: it contains all the platform's main functions.
MY PROFILE
My Profile shows the completion and efficacy level of your Personal Profile.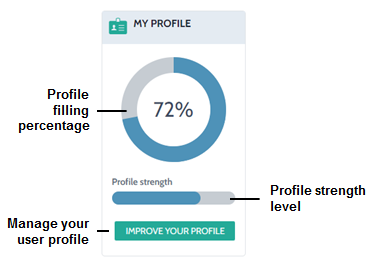 MATCH MAKING
The Match Making widget shows the list of Exhibitors in order of compatibility . Press to
access the complete list of Exhibitors present at the fair, where you can make searches and apply filters.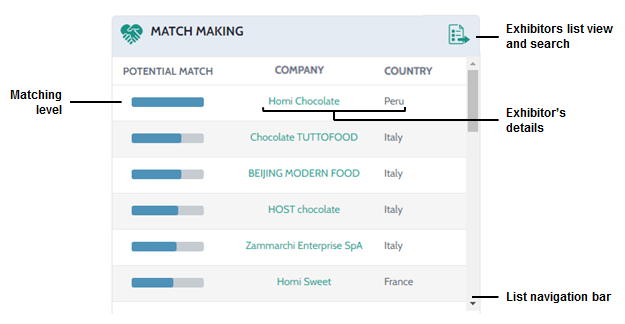 MY AGENDA
The Agenda widget gives you a quick view of the status of your appointments and the dates when your agenda is active.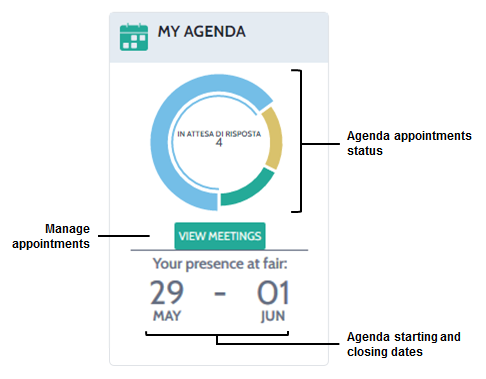 MY MESSAGES
This widget is activated when you send or receive a message. It shows you a record of your conversations with other users.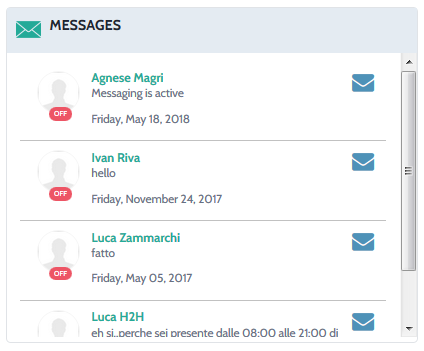 TRAVEL PLAN
If you have a Travel Voucher from the Organisation Office, you can manage it straight from here. Click on MANAGE TRAVEL PLAN to edit the information entered.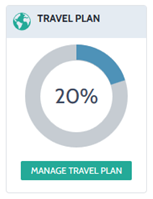 MY WALLET
This function allows you to download your Buyer ticket in PDF format and print it directly from My Matching.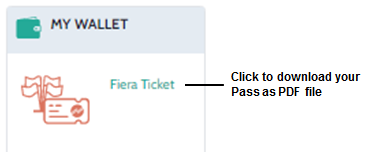 BUSINESS MATCH
Available for BIT only.