Match Making
Match Making
What is the Match Making function for?
The My Matching platform is the place for buyers and exhibitors to meet. The filters activated allow you to choose the best people to engage with for your business and to make useful appointments to develop real, effective business opportunities.
How doesMatch Making work?
The system automatically identifies and selects the Buyers best suited to your company profile, based on the information you entered, such as the products and the geographical areas you're interested in.
Using Match Making
You can access the matching function straight from the Menu or from the Dashboard.
On the Dashboard, you'll find the Match Making widget, which shows the list of Buyers in order of compatibility.
Press to
access thecomplete list of Buyers present at the fair, make searches and apply filters.
To view a Buyer's profile, and to request an appointment, click on the Buyer information.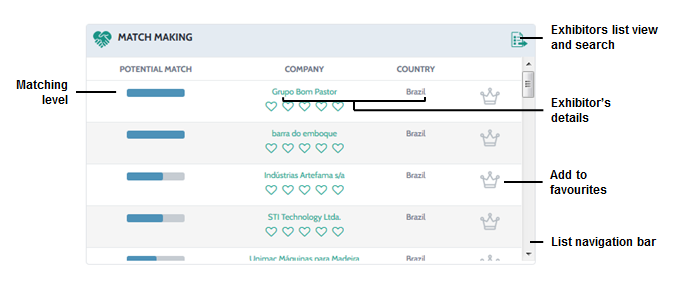 Complete list of Buyers at the Fair
Click on the icon
to view the complete list of all the Buyers registered on the platform and present at the fair, ordered according to the My Matchingcriteria.
The search options here include:
Search by Buyer name or company name
Filter by country of origin
Filter according to the product catalogue indicated by the Buyer
Show only Buyers with an active agenda, who are ready to receive requests for an appointment
Show only Buyers marked as favourites


You can save your favourite Buyers by pressing the icon , so you can find them again easily.